it's that time of the year again
after 2 big exhibitions with not so big Neoangin shows in Aix en Provence ( where i had some communication trouble with the "french only" audience ) and Hamburg ( where i invented a 23 inch cardboard record player ) i am glad to tell you that i am preparing for a nice trip to south america with shows and livepaintings in Lima and Sao Paulo and a couple of brand new tunes in my hat. right now i am writing a new one almost every day and i can say if it goes on like this, i have a new album ready within the next 2 weeks. There are also some more new shows on my gig list and plans to go to russia and italy in summer. if it goes on like this - no complains from my side
unpaid work
it`s 3 months later and not too much that I can tell. Winter seems forever and everybody in Berlin experienced the darkest February in Berlin in the last 50 years. I didn't mind too much, because most of the time I was sick and in bed anyway. January was much better, I went to italy for a couple of shows together with nova huta and also had a show in teapot gallery cologne with my stage on a movable platform. In the middle of the show the stage went up to the roof and down I came as a Michael Jackson Coverversion. French german TV station ARTE bought a couple of videos for their Mediathek but then it turned out that it's a hell of a paperwork to make the deal perfect so maybe thats never happening. I am also preparing for my multimedia spectacle at the Kunsthalle in Aix en Provence in end of march and there is a couple of new shows in the list – please have a look, maybe I am somewhere near you soon... And if you haven't downloaded my free minialbum " unpaid work"- its still there waiting for you…
whats going on when nothing goes on
The last 4 weeks haven't been the most healthy time in Neoangins life. Not only do I still have to carry that bandage on my broken right hand, I also became sick immediately after I wrote the last news here - went to in bed with tonsillitis for 2 weeks and for the first time in my life had to cancel a show. In the meantime things are a bit better, I went to Exground filmfest to finally see my appearance in "Chapiteau show", then went to Paris to do 2 shows with my man Nova Huta and will have a second try with japanese dancer Yuko at Eschloraque next Wednesday. Hope to see you…
what's new friendly dog ?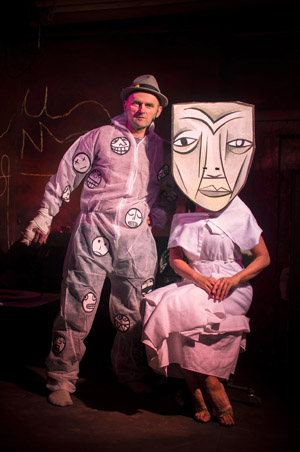 i broke my hand a few days ago. for a week i tried hard ignoring it , but at some point i had to admit somethings not okay. i went to xray and now i have a beautiful but monstrous bandage that somehow makes it a bit difficult to continue with my shows like before...the good thing is: for a long time i had been dreaming of doing a totally different kind of show and finally theres a really good reason to do it. Japanese dancer Yuko Matsuyama will collaborate with me for the next show, not only did she invent some breathtaking choreographies for the show, she also made several beautiful costumes and she will be the wild dancer now. there will also be virtual guests singing duets duets with me like Masha Qrella, Nova Huta or Quioquio to name a few and there will be also a couple of brandnew songs that i am going to sing for the first time... neoangin time again..
wish you were there
Looks like homeland security weren't the only ones to read my homepage. Thanks for the many nice and supportive emails and letters about me being kicked out of the US! So far I am doing good adjusting back in Europe….Some of you asked, why there is no new Neoangin album in almost 3 years… the one big reason is, that we had a masterplan with my second band Anxieteam to have an album out in 2010 and I wanted to wait for that with a new Neoangin album. But Anxieteam songs don't get written in half hours so in the end it took over 2 years to finish our first proper album. but finally – here it is – , comes with a 160 page hardcoverbook, that we want you to use a as diary or sketchbook, write or draw in it and take it around with every once in a while…. The music is a beautiful mélange of lofi singalong & dancefloor , we spent nice evenings in james studio in chelsea , using chairs as drums and humming melodies into the dark…. we like it a lot and we hope you do to. Its going to be officially released next year on hello thor / heye but I already have a couple of books at home. If you like to order one, just send an email… The englandtour was fun , looks like we are going to do another one soon. In the meantime Neoangin is back on track with a show this saturday in on of my favorite rundown rocknroll places: villa nachttanz in Heidelberg . There'll be more in Nov…..
byebye, miss american pie
Finally there is proof that somebody is reading this website. When I went to the American consulate to renew my USA visa they claimed that I had been using my journalist visa to do a lot of things ( shows , exhibitions ) in the USA wich I wasn't allowed to do. They had a nice documentation about it, and to my surprise one of their sources was this nice little homepage. My visa was denied and from now on I am "persona non grata" in the US, wich means I am not allowed any more for the rst of my life. This will change my future travel plans a bit. Right now there is so much going on in Europe that I am not worrying too much about it, a mini friendly capitalism lounge in Kassel, England Tour with Anxieteam and a bunch of shows on various places in Europe – have a look and lets meet…
long time, no hear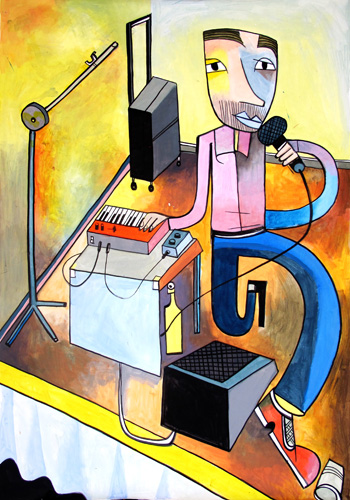 Thanks to all the people who sent emails and asked what happened to Neoangin. no, i didn't disappear completely. let's say i stayed offline for half a year, and even that isn't the whole truth. i went on a 6 week tour through central america in February and March and did shows in Managua, Guatemala and Panama to name just a few. And for the rest of the time i stayed in New York , busy doing shows with my other band Anxieteam, we finished recordings for our first proper album and did a show almost every week, the last one was a spectacular rooftop show in Bushwick some weeks ago. And 10 days ago i flew back to Berlin, did a first Neoangin warm up show in Rome last weekend and prepare gigs for the next months. more soon here...
the pop-up-police never rings twice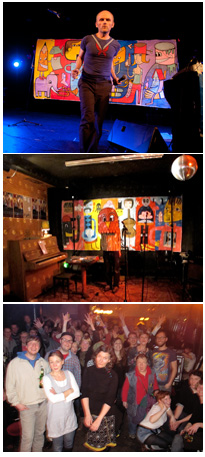 Neoangin is back in Brooklyn. 2 months out of the suitcase behind me and a head full of memories: giant ship in Budapest with only 50 people in the audience but whole show got filmed for TV and i had to shoo the audience around to make them pretend they were 1000plus ! Sold out show in London with Anxieteam and a weird brother in the audience! A naked guy on stage and Max Tundra sleeping before and after his show in Nantes! having to compete with 3 ambitious youngster Djs in Bordeaux, shortest set 25 min in HamburgGolem! longest show 3 hours 25 min Stuttgart/Waggon. Arriving 8 times in Berlin SFX and painting a complete exhibition in the train. For the last time in this life playing the same old Cure coverversions with Nova Huta in Monarch! Watching the pop-up police in Basel closing down the show just the minute everybody started to dance and finally being trapped in a tiny backstage room with a funny barkeeper on weird drugs who was unable to count the doormoney!
It's Neoangin season again
No escape from Bushwick. Not only did my New York band Anxieteam write a song and video about this pitoresque, soon to be gentrified, yet still hipster wasteland area in the heart of Brooklyn, i also spent half october- half November painting a massive 60 m wall there. Very nice that it had sunny mid september weather till now, so my only risk was to get sunburnt. Before we went into winterbreak Anxieteam played the pictoplasma festival and released "Bushwick Dream" last week with a bumpy last show. And now suitcases are packed and neoangin is ready to rise from the grave with shows next week in Nantes and Bordeaux and the week after in Budapest. More soon....
B-B-B-Bingo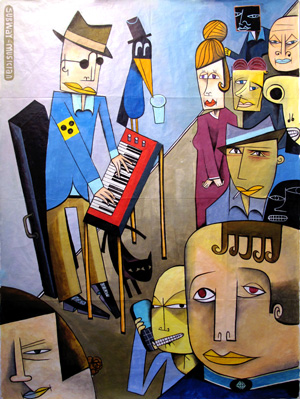 That was a busy September for Mister Neoangin. A lot of traveling in Europe and funny situations everywhere. During my surprise exhibition at the superb Berlin-festival, a picture got stolen off the wall. In Cologne at "Cityleaks-festival" i had to wait 3 hours for the paint to do my livepainting and when it finally arrived , almost everbody had left home. Thank god, i didn't waste a minute and played Foxy Bingo while waiting and won enough to invite everybody to a soda. Luckily when i did the concert at the curch a few days later the place was so packed that it completely curbed the big bad reverb. Funny moments with Anxieteam shows as well: for the gig at artyfarty gallery we had to do a "silent disco" gig with everybody in the audience wearing headphones, of course it all ended in a big mess. In compensation we played our set in zürich twice, because running out of songs and the people wanted more. Of course the new ANXIETEAM postcardalbum with downloadable songs didn't arrive in time for the tour, but now it's here and it looks beautiful. Shows to come: Anxieteam will play the Pictoplasma afterconference party in New York on Nov 5. and Neoangin will do a special Europetour in December, playing mainly towns that begin with a B like Budapest, Bordeaux, Basel and Berlin to name a few! To get you in the mood for the "B"ecember-tour watch this little video i made on a rainy day in Brooklyn to my song "Bartleby"
busy in the analog world
after hot but introspective summerdays in new york I am almost on the way for 2 busy weks in europe. this weekend will bring Neoangin to Nürnberg-Fürth, where i am happy to join the famous Badstrassenfestival and also will meet with my old mate Fehmi again. On sunday Neoangin will join the Theaterfestival in Mainz. Monday is reserved for my dentist and on thursday in a week i am off to Cologne to join the Cityleaks festival with an exhibition on friday ( in a church, not sure if they really want me there) a livepainting on sunday and a another performance of "Berlin -Symphonie einer Grosstadt" with the new neoanginscape on monday. Not to forget i will meet up with my friend Jon Burgerman and we will have an Anxietam show on friday that is also kind of a recordreleaseparty. we will release a postcardbooklet with 22 postcards and a downloadcode for 4 new songs. musicindustry, take care, heres a new concept for you ...in the week after we are going to switzerland - details soon
new york trilogy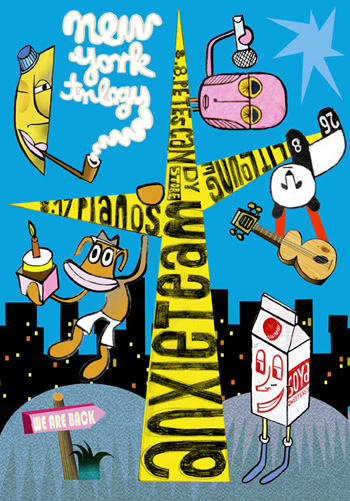 after Neoangin played the Goetheinstitute summerfest in Moscow in June, i returned to New york to pick up activities with my second band Anxieteam. and not too bad i have to admit. we have a couple of nice new songs and are about to finish our first album. In September a postcardbook will be released as an appetizer, titled " i think i miss you". It has downloadcodes on each postcard, and will be released on hello thor, it's going to be available in severeal recordstores and at our exhibitions in cologne and zurich that jon and i are having together in september. and for new yorkers theres a couple of shows in august and we promise that they are all going to be different. For our show in Pianos on Aug 17 we expect Prof Thalhofer to join us with his mindblowing videoshow...
Me and the anti-establishment
Finally Neoangin is on the road again... The show last saturday at Lupita wasn't too bad and Yaneq really showed me how to heat up the mood. Tomorrow its Heidelberg for a last goodbye to one of my favorite Clubs and audiences "Villa Nachttanz". Saturday its Munich, and next week it will be Frankfurt and Wiesbaden. Saturday you can find me in Bamberg doing a new Soundtrack to " Das Cabinet des Dr Cagligari " - a masterpiece of German expression and on Sunday i return to Berlin for the Finissage of my exhibition, decently titeled " Me and the ANTI-Establishment". Join me and friends Chris Imler, Nova Huta, Candy Hank and Jens Friebe for a night of no regrets.
old is the new young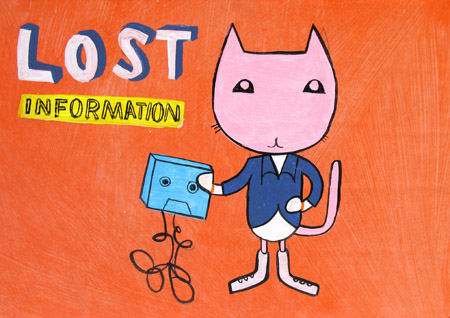 i admit it.. for quite a while this homepage wasn't the place where you read it first....no mentioning of my big " almost-retrospective" exhibition in Berlin, no touting the horn for my splendid new A3 posterbook that just came out and also no mentioning of my first russia tour in 2 years and why? just because i was a little bit too busy travelling around to update my homepage once in a while...but, it's not too late, the exhibition is still up till end of may, there might be another russia tour and the book, my friends, you have to see it to understand my excitement, and here's the good news: if you are somewhere near Berlin there is a perfect moment to do so: join me and my smart and friendly publishers, the one and only Onkel and Onkel for a free Neoangin surprise show at La Lupita eV in Skalitzer str 135a as part of the lange Buchnacht on May 14. there will also be a talk with Berlins sharpest tongue Yanec and if the mood is right we will even do a song or 2 together. friends, don't let me down
join the old school
neoangin is back into action and the next weeks will be tough ones. sat April 2nd i will have an opening in Hamburg at one of my favorite places Feinkunst Krüger mysteriosly titled " the prison of meaning" . A week later, on april 9 i will be in Stuttgart to open "Mess is more". Both exhibitions with brandnew works, and a prerelease of a new A3 sized Posterbook "me & the establishment"." back to the oldschool" will be the musical theme for both openings: I just recently found a small dusty box with 10 year old Minidisks and songs on it that i thought i had lost years ago ... join me for some real NEOANGIN old school!
i want you back in my life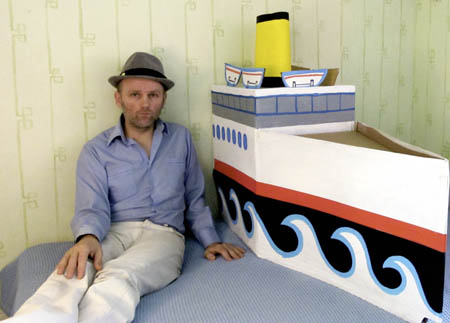 only regular visitors may have noticed but it was very quiet here for a while. It was obvious that i needed a break with neoangin. first of all, i was very, very exhausted after my last tour in november, it wasn't bad at all but for sure it was crossing the country one time too often. then i am playing in this new band ANXIETEAM, wich has been mentioned a couple of times here and it turned out that this new band is a little bit jealous about any neoangin activity. and finally, i have to admit i was disappointed with the poor reactions on my last album in the press. i think journalists just don't like me, maybe i don't like them too. so for a while i thought this is it, time to quit, but then after a while some of you people start writing and inviting me for shows and asking what i am doing and suddenly the funny little melodies are coming back and so do i. next sunday there will be a last show with ANXIETEAM and then i will cross the ocean towards berlin and i have some big plans. come back here to find out more, i want to write a news every week now....promise
who is afraid of friendly capitalism!!!
friday Nov 5 is the big day for me. the notorious friendly capitalism lounge is returning to berlin for another night of art and music extravaganza. I am very happy that all my local favorites are playing on the same party. Masha Qrella ,Kissogram, Quioquio, Warren Suicide with the support of a string quartet. Krach der Roboter dressed in Robotcostumes and Frenchman Debmaster with the latest in weird sound research. not to forget a spectacular exhibition, Skewville from Brooklyn, Sammy Stein from Paris and oh logo from Cologne with a money ironing performance just to name a few.... and who knows, maybe here will be a neoangin-surprise show as well.... come and see
no sleep till brooklyn
summer turned out to be busier than i had planned it . what started with7 tiny events during a 2 months summerperiod became a proper tour with more than 20 events in 5 different countries. i was already a little bit tired when i returned to new york in september only to find out that i better hurry to sao paulo to help my friend holger with the blinddate festival there, but was worth every minute. Finally in the end of september a very exhausted neoangin returned to brooklyn with nothing else in his mind but to rest and do as little as possible, maybe eventually write a new song....
anxieteam go vinyl
Big news from england. while Neoangin is still touring in europe, my tiny sideproject Anxieteam with english painter Jon Burgerman is not so tiny anymore. The british label "hello Thor records" found us, liked us and are about to release a double-A-side 7inch Anxieteam single as a picturdisk!!! We are so exited that we decided to do not one but 6 releaseparties, 2 of them in England and 4 in Germany. The big handpainted poster that we sent to Pudelclub / Hamburg to announce our show got stolen on the second day, but that can't stop the Anxieteam. We are on the way and we hope to see you!
what to do with the man in blue . . . .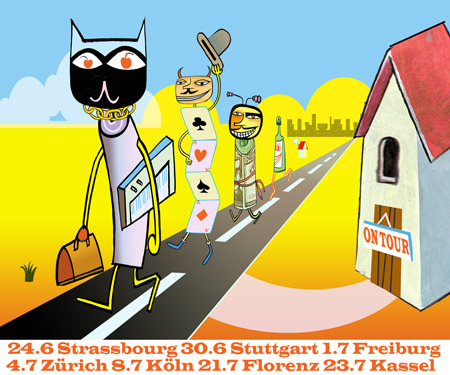 wakeful fare for folks who don't care
finally "say hi to your neighborhood" was officially released. thank you morrmusic and indigo! go and ask the friendly recordshops in your town to put a copy for you on hold. INTRO magazine was so baffled that they promptly reviewed the wrong album. Other magzines preferred not to, but some radiostations gave me nice airplay. i have booked some shows in europe during the Summer time focusing on the few and precious days without footballgames, If your mind is spinning from a soccer overdose - have a look - i might be in a bar around the corner. and in the meantime Mr Burgerman returns to Brooklyn for some ballads and salads with your mates from ANXIETEAM .
something for the weekend
it may seem as if i was a bit absent recently but there is a little bit going on behind the curtains . Neoangin wrote a new song for the EGOTWISTER compilation "Les Couloirs du Temps" that is going to be released along with a Sammy Stein exhibition. Meanwhile mastermind Aleks Budovskyi made a video in his unique 2D animation style to the Song "middle class hell". Chimneys marching, skyscrapers dancing and a bright LED rainbow breaks over the suburban dream gone sour, illuminating those stuck in their middle class hell. to celebrate all this and more neoangin is having his first show in 2 months this sunday in Glasslands Gallery , on Kent ave in Brooklyn. Neoangin will play around 9 and is doing a couple of songs together with Singer Xenia Rubinos.
TV made me do it
snow finally arrived in brooklyn. a fine moment to stay home and take a look at some clips that appeared on the web during the last weeks.... there is a good one on Basque TV about Neoangin playing the global funk party in "San Sebastian" . The MODART people made a smart documention on their Wallbreakers Finale in Berlin wich was also my "Recordrelease", only a view weeks ago i had a walk and a talk with "ein Bayer in Brooklyn" Matthias Röckl. The talk was about how the hell to start a musiccareer in New York, and the walk went through one of New York's most beautiful cemetaries. And finally see how "Anxieteam" played their most quirky partystarting gig with 2 exuberant dancers in soya bottle masks.
the boy who can't relax
busy days for neoangin.... together with Stereo Total i was "skype"guest in Marcos unique "konspirative Küchenkonzerte-event. This "band meets artist meet audience and all have dinner together in Marcos apartement" show is rather one of a kind and will be broadcast sometime in april. The same evening Anxieteam finally did the Videorelease of "melancholy pays my rent" together with Mimi and James from plastikmag at heathers, a nice east village bar. Even the nasty rain could not dampen our mood thank to the multitude of free drinks from the friendly bar. We played several new songs, and drew portaits on jons exciting pad. and to make it complete a fantastic new Video arrived from india today....
say hi to 2010
2009 is about to leave. it started with a rather lame party and i have the feeling it will end the same way. not too dramatic. the best nights happen when least expected. so far there are no plans for Neoangin in 2010 but lets see. there are 2 sublime new animated videos on their way and also some big thoughts about projects that will take advantage of the new possibilities in internet communication... in the meantime Jon Burgerman is on his way back to New York which means there will be some Anxieteam shows soon. We also have a date with a recordingstudio. Labels, watch out. Thanks to everybody who came to my shows and stayed in contact and thanks to all the people who ordered my CDs and kept the good old mailorder business running, i have no idea what 2010 will bring for everybody but i wish you the very best. till soon.
not so silent brooklyn nights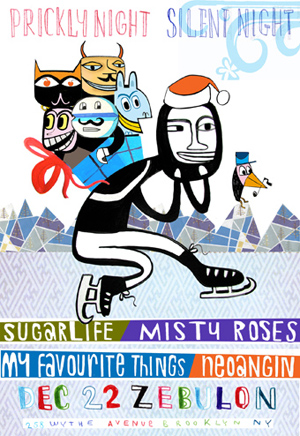 2 weeks of heres and theres in Europe
after 2 weeks of intense touring i returned to new york and went straight to bed for a week with fever, exhaustion, the whole nine yards. but it was worth it! nice people everywhere and a bag full of memories.... jon burgeman dancing with the audience via skype in Kammerspiele Munich, people with selfmade masks storming the stage in Heidelberg, swapping CDs for homemade jam in San Sebastian, excellent dinner and the 1 meter wodka bottle in Pudelclub Hamburg, singing the Duet with Kim in Berlin andandand . thanks to everybody who came and said hi
Say hi to your neighborhood
as the world is shrinking, neighborhoods get bigger and necessarily the whole world will be your neighbor soon. "say hi to your neighborhood" says the title of neoangin's new album and it brings you 15 brandnew songs about the pros and cons of living in a high speed world. Recorded just some weeks ago, the album is ready next week and will be celebrated with 2 record release parties: nov 4 in Munich and nov 7 in Berlin. neoangin wants to say hi to your neighborhood with a small tour in nov ( if you are living in germany or spain). if you live somewhere else you maybe have to wait a little bit...
the night we sneaked in the waldorf astoria
madness in my area
finally i go back to germany for 2 exhibitions ( in Kiel and Wiesbaden next weekend) and one show in Nürnberg-Fürth, but mainly to meet Norman and Chris in the studio and record the next NEOANGIN album. right now there are plenty of sketches but i dont know wich ones we will pick in the studio. the week before recording is always a disaster. i change my mind every minute. wish me good luck!
cool new video from india by isaac niemand
BROOKLYN BAILOUT BURLESQUE
If you are somewhere near New York please join our big Groupshow. 7 artists from 7 countries and 4 bands ( anxieteam, my favourite things, rifle recoil and special guest imler ). expect everything from unsentimental portraits, vibrant colors, playful items contemporary weirdness with a good old anti-establishment vibe. Between high art and crumbling economy there is a commonground for inexpensive works, keenly tailored for broad appeal at the Brooklyn Bailout Burlesque. for detailed info see www.factoryfresh.net
A N X I E T E A M
I'm in a band. After recording 10 brandnew songs in less than a week together with Jon Burgerman, we felt that its about the time to call it a band. Jon who is also a painter and now musician sings with a sophisticated dark english voice , writes songs mainly about food and obsessions, plays a delightful guitar and ukulele and is about to move to New York soon. we named the band ANXIETEAM ( anyiety + team = anxieteam ) after the exhibition we had together in february (that was called anxiety room). get a first sip of ANXIETEAM on www.myspace.com/anxieteam
the song remains the same..
...but the looks are always changing. new masks, new backdrop-paintings and this time a very lively guestsinger. the mighty "duke of doodle", Jon Burgerman himself joins neoangin for 2 shows. this friday 9pm at the litlounge together with Braille, Shipyards and built by animals and next wednesday also at 9pm at Glasslands in Wburg together with Balún, Windy Hill Mill and Dorako.on boths nights neoangin will play first , so skip dinner and be there early.
the revolution has begun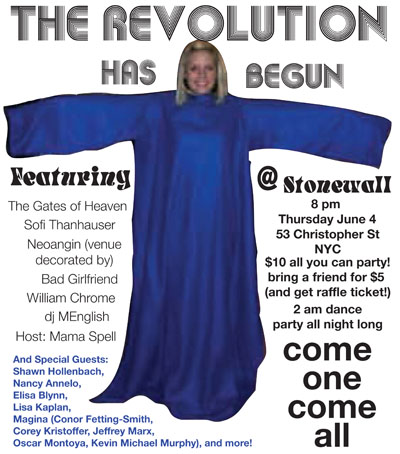 neoangin is playing the Stonewall Inn this thursday. the Stonewall Inn became famous, for the riots that started there in june 1969 after a police raid and later gave the Christopher street Day its name. please see http://en.wikipedia.org/wiki/Stonewall_riots for more infos about the place. neoangin will play around 10 pm but will also decorate the club for that very special night.
manhattan double feature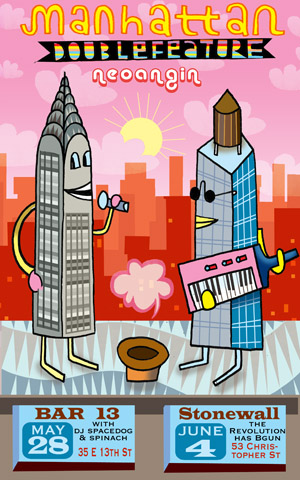 new songs on myspace
neoangin has been working on new songs for a few weeks. i have already recorded plenty of sketches so far, but no idea which direction the album might take. should i really do a doublealbum and some 8minute songs? in the meantime i updated my myspace profile and put some rare and unreleased songs there ( some of them i wrote for a once planned but never released "music for children of all ages" album. i guess that myspace is pretty unpopular by now, but come on, give it another try...
Band in a box
Neoangin performed under funny claustrophobic circumstances during the opening of his exhibition last weekend. for 6 hours he was hiding in a cardboard-box designed like a photobooth and did portraits before he picked the mic and did a 15 minute surprise set. for more fotos and a TV doc go to http://www.feinkunst-krueger.de
stop me from doing nothing
on April 4 i will have an exhibition in Hamburg at gallery Feinkunst Krüger in their newly renovated space. At the opening the Gebrüder Metz and me, we will present a world novelty: a photo booth that doesn't spit out photos but portraits in a "Jim Avignon"style. DJ will be Dame Anemonella from Amsterdam and your very own Neoangin himself will sing some tunes about hopeless bohemians and starving artists.
lets go where the action is!
In February i had the pleasure to put on an exhibit together with the "Duke of Doodle" Jon Burgerman in Brooklyn's FactoryFresh gallery. we painted the entire exhibit in the basement of the gallery. For the opening we teamed up for a highspeed live painting performance titled the anxiety broom. Jon's brother Alex filmed the whole shebang and Jon spent some lonely laptopnights editing it into a short film. thanks jon
the anxiety tune
its going to be last weekend for our exhibition "the anxiety room" that the "Duke of doodle" Jon Burgerman and i put together in 2 crazy weeks in probably one of Brooklyn's finest galleries. to celebrate this and to attract those of you who didn't dare to venture out to an unknown territory yet, your favorite 1 man electro band Neoangin will play a show this friday. It's titeled "the anxiety tune" and will include a handful of new songs and for all those who already miss Jon Burgerman there will be a little surprise...
the anxiety broom
Jim avignon is having a show this thursday together with Jon Burgerman from England who is probably the fastest drawer on earth . For a week we have been locked inside the basement of the gallery to paint for our lives. Most likely we will have reached a certain level of insanity by thursday so i highly urge you not to miss our opening night performance " the anxiety broom ". thats all happening at factory fresh, 1053 Flushing Ave, Brooklyn
beautiful new video by yukihiro taguchi
Der Aufstand der Dinge
NEOANGIN in TOKYO
Neoangin will be in Tokyo for an Exhibition and Multimediashow at OAG house on wed Nov 26 and is especially looking forward to meet Fantasista Utamaro of Mashcomix for a livepainting battle and show at Club Superdelux on Dec. 1
Neoangin X-mas special
For the next 4 weeks there will be a special Xmas package available containing any 2 Neoangin CDs from the backup catalogue, a small drawing and everything packed beautifully in vintage giftwrap by myself for only 20 euro plus shipping and all before dec 20. available Cds are: happy hobo, scratchbook, hello jim avignon. lets meet under the table, music to hide and seek, unhappy house, friendly dog and its so easy to fall apart. --> Order
happy recession
the notorious "who is afraid of friendly capitalism" lounge is back to celebrate the end of capitalism as we know it . put on your recession fashion and enjoy a wild night with obscure guests and semicelebs from the art and music world such as Namosh, the beautiful Single from Spain, Heimat Connective from Kopenhagen, OMP, DJmaniacs Ticotico vs Potipoti and last minute booking Heidi Mortenson with some adrenalin shots of soulful electro something. your one and only hopeless bohemian Neoangin will lead you through the night and cant resist to do the finale with some spooky coverversions.
where have you been, NEOANGIN?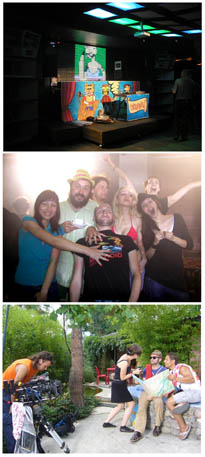 a few days ago Neoangin returned to Brooklyn and started working on new songs. here's a little update about the going-ons of the last few months. in july i spent some weeks in russia making my debut as an actor for the russian movie "shapito". In moscow they filmed an entire gig of mine, it ended up taking 7 hours and was the longest concert i had ever given. the shoot continued in the Crimea Mountains where i had to play a hedonistic bohemian guy not speaking the language and stumbling from party to party. in fact they wanted me to play myself and it wasn't too difficult. back from russia i did a few shows and festivals. In kopenhagen i smashed the only light on stage and had to continue the show in the dark, in Bern i got caught riding the tram without a ticket on the way to the show. i argued with the controller for half an hour but it was in vain, the whole thing did enrage me though, wich gave the show a good direction. last month i went to brazil for some exhibitions and shows including the opening night of a splendid new nightclub called tapasbar (thanks to gerfried for inviting me) . thats it, if you already miss your favorite obscure one man electrocombo, see the documentary about Neoangin on german /french Tv arte on Oct 17 . till then
small world / big cities
for the first time in his life neoangin is going to brasil. time will fly with 2 exhibitions, several shows, a lifepainting and a painting competition packed into the next 2 weeks. a big thanks to Holger for organising all this. PS : lets have 2 weird weeks and i promise to learn the bossanova !
neoangin back in NY
after several splendid weeks in europe and his first experiences as an actor , neoangin will return to NY next week and is having a special show for the finissage of Roman Klonek's awesome exhibition at McCaig-Welles Gallery, 129 Roebling Street, Williamsburg, New York 11211 on Sep 4. I will also be part of the art parade on saturday afternoon around deitch gallery. watch out for the large ballon with yellow heads...
Rooftop rendezvous
Neoangin, Norman Palm and Masha Qrella play an early evening show at one of Berlins most spectacular places, the rooftop of club WEEKEND on Alexanderplatz, Alexanderstr.7. DJ Supermarkt/Mellowmafia will be your host of the evening, ready to bedazzle you with a suitcase full of softrock gems. If its not too windy Jim will also do a lifepainting. Shows start early so try to be there at 7 pm. PS. it won't rain
friendly dog meets lucky cat Vol 2
before neoangin goes back to europe to play some festivals, he returns to lucky cat in Wburg/Brooklyn to play some uplifting midsummer melancholy ballads. Also performing that night: my favourite things and Gregory & the Hawk confusing their best songs into one program of timeless beauty.
magenta & punisher
its been a weird 2 months of music with shows all over europe! most of all i remember the grand prix du monde in paris, the police stopping the show in berlin , the human puzzle on stage in moscow and the livepainted tattoos at the comicsalon. 2 more shows to come before neoangin is going back to new york to have a little rest: friday i will play at the magenta party in the CMYK club in luzern and saturday at the punisher party in mulhouse. if you live in these areas please join me for the grande finale!
whatever gets you through the night
only 2 weeks after the almost eternal spring tour ended with a 3 hour show finale in nürnberg, neoangin is throwing a party together with long-time party partner fehmi baumbach in the brandnew gallery tristesse in Berlin. we invited friends from everywhere to play, exhibit, show their films and do whatever they want. bands playing are frau kraushaar, schlammpeiziger, manou, neoangin and as very special last minute guest chris imler. desert planet from finland will show their movies, florian thalhofer will introduce his "vergessene fahnen project" and theres a splendid groupexhibition that will will make you want to forget that its boring gallery weekend in berlin.
Happy hobo 2nd place at Platten vor Gericht!
Among other rather interesting reviews, "happy hobo" made second place at the notorious "Platten vor Gericht" in INTRO magazine. don't know how that happened. I always thought we are not mainstream yet. Find out yourself at the second leg of the springtour. The show in Munich's Kammerspiele will be filmed by an ARTE camerateam so be prepared for some extra stage activity with audience participation. 8 years ago Neoangin played one of his weirdest show in Flux, Vienna where during a 200 minute set 2 kamikazefighters in cardboad masks did parodies on computergames. Unfortunately I don't have a foto of this memorable set. Free entry in fluc on april 17 for everybody who brings one…
NEW ALBUM IN RUSSIA
My alltime favorite label BAD TASTE is releasing a new Russian only Neoangin album titeled" hello jim avignon ". It's a compilation of their favorite tracks of the last 4 regular albums including some rare and unreleased material as well as the main track from the musical "fever". To celebrate the release there will be shows in Moscow and St. Petersburg next week
the show must go on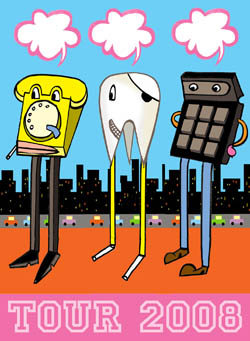 one more day to go and they just announced that the trains will be on strike from tomorrow on...... well. if worse comes to worst they will do the trip on their feet. be prepared when they reach your area. they are back, they are ready, they are neoangin and nova huta. tell your friends, tell everybody: if they miss this splendid extravaganza they ll live to regret. for any special songrequest, send an email to jimavignon@yahoo.com. we probably play everything we have. people in paris, watch out for the man with the 20 faces!
2 new videos ready
Neoangin @ Volksbühne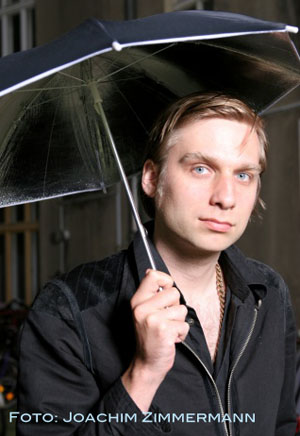 Jens friebe and neoangin not only share the same drummer but also a very charming webmaster. Now jens has invited neoangin to take part in his revue at the famous german theater Volksbühne in Berlin. Other guest of this spiffy night wil be dessert surprise, a young and wild new wave group and Pluramon . of course jens Friebe himself will play a faboulous finale of his almost 2 month long german tour. this evening is bound to be splendid and not to be missed.
Folge 137
Neoangin will compose the music for the new Radioshow "Folge 137" on Deutschlandradio Kultur. Folge 137 is developed by zentrale intelligenz agentur and is a new magazine that is focussing on obscure fringe-group-themes . Each episode will be independent from the others and appears to be a random pick from a program that has supposedly existed for a long time. The first episode ( with Neoangins music) will be about mediocrity and will be broadcasted on feb 24
GONKI is coming to Brooklyn
for the first time in 4 years Psoy Korolenko and Neoangin will be together on stage to perform the songs of their one and only collaboration album GONKI. Following the weird masterplan of mixing eastern songwriting with western electronics, Psoy and Jim just excanged mp3s. it was a surprise to everyone involved that after these 2 months of obscure production circumstances, Gonki became a classic and has been sold out for a long time. Psoy and Jim will share the stage on Jan 4 in a cute little place called Casanovalounge and so far those 2 experts of wildstyle-improvising havent rehearsed yet. Be surprised....
friendly dog meets lucky cat
I can't do the show for the Storno 8 bit lounge together with Gangpol & MIT on Dec 12 in white trash, because I am already back in Brooklyn.
This is sad and to cheer myself up i decided to do a show the same day here. so there will be a new york release party of happy hobo at lucky cat, one of the most charming places in williamsburg. the lucky cat / 245 Grand st / Brooklyn - Wburg
first Album review at Standard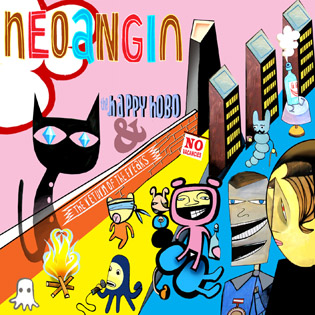 To my own surprise a first review of happy hobo appeared in the Austrian der Standard with kind and clever words for the album. (and I am still working myself on that damn pressinfo).

Teenage, been age "The Happy Hobo & The Return of the Freaks" zeigt Avignon einmal mehr in der Form, die ihn zum Fixstern am Lo-Fi-Himmel gemacht hat:
To read the full info go to http://derstandard.at/?url=/?id=3134704
the tour in brief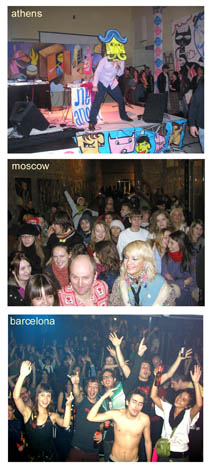 The tour was ….. funny and full of surprises. Maybe the booking was a bit too tough (4 countries in 1 week and nova huta and i are not the youngest anymore) so it was no wonder that after finishing the tour last week i went straight to bed with a flu--I am still there. It was only the second day of the tour—we were in Heidelberg—when we spontaneously decided to reach for new limits by doing an almost 4 hour long show including a schmusesong competition, where we cannot even remember the winners. Maybe it all started because some anonymous friend put 2 glasses of straight up vodka on stage.
The day after we played in cozy wagon in Stuttgart. We expected it to be nice and familiar but the place was so overcrowded, that the stage disappeared and there was hardly any place to dance. Amidst all of this confusion I smashed a digital camera ( sorry, oli) and did the merchandising from stage during nova huta's encore.
One week later we all met again in Athens in a 19th century temple for the berlinblinddate party at Zappeion. Thanks to the superb presswork of the Goethe institute in Athens (big articles in all newspapers) all sorts of people came to see what the hoopla was all about. We were happy that some of them stayed to play the Chinese horoscope and to see neoangin's show as well as a surprise performance visit by 4 dancers (hey, even I was surprised).
I used the day off in berlin to hang the exhibition at Kurt im Hirsch and do an interview with ZIPP /RBB that you can see here.
The next morning I flew to Moscow to be jury member at a new short film festival. Little did I know that I'd have to give a speech in the rather large cinema--good thing that I was already slightly drunk when they asked me to the stage.
The day after I played a late afternoon set in a brand-new Moscow gallery complex. The interior temperature was about as low as the outside temp and half the audience consisted of TV teams so I left the stage and did the show from among the audience as to not get a cold. 2 days later—in Barcelona--the police showed up just before I was getting ready to hit the stage. I had to play at room volume and asked the audience not to clap but to wave hands instead which looked really lovely.
Finally I returned to berlin and did a little show at my art opening standing on top of an old oven. This exhibition with title " the return of the freaks" was also the official release of the new album.
Berlin visions at zappeion
Berlin is coming to athens! For years DJs have been one of the very few profitable exports from Berlin. Yet the sound alone does not make the party.
If you want to get a whiff of Berlin air, we dare you to go on a blind date with the first all Berlin night in Athens.
Since 2001 Jim Avignon has been running the "Who's Afraid of Friendly Capitalism" Lounge together with Fehmi Baumbach. The 2 set new standards in mixing everything they liked into a big funky cocktail of contemporary stuff. Its there, where culture is meeting subculture and the most eclectic semi-celeb elements of Berlin's hang around all night.
Talentshow
Neoangin and Nova Huta are going to play some shows in Germany and Europe in November to prepare for the BIG tour in March 2008, expect entertainment and insanity mixed to the max.
new neoangin album out soon
Jim avignon is not only the fastest painter in the world but also really quick in releasing albums.
Only 3 month ago he started recording songs, after an almost one year brake of doing nothing. And only some weeks ago he went to Villa Kurella Studios to record the best of these songs with his longtime partners Chris Imler as producer and Norman Nitzsche on the mixing desk.
The album wich is called "The happy hobo and the return of the freak" contains 17 brandnew Songs, wich show Jim in his best mood since long time.
hello jukebox won 1. prize at KROK
The wonderful animation video to "Hello Jukebox" by Aleksey Budovskiy won a a diploma in category of videoclips at the Krok Animatiation-Festival in Ukrainia . Congratulations Aleks!
neoangin bei radio peelings
Last september german radiostation WDR remembered DJ legend John Peel, who died 3 years ago in Peru with a live broadcasted collage out of interviews, music and several german radiolegends as guests.
Neoangin, who is well known for being a lifetime-john-peel-fan was invitd to do short sets inbetween and mainly used his time to tell stories about the influence John Peel had on him (and played a few very short songs). A recording of these shows will be broadcasted on WDR3 on Oct 22 at 10pm.
> READ ALL NEWS
> Get the newsletter
> Facebook-Page
> Subscribe to the RSS-Feed
NEW FREE ALBUM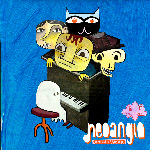 Unpaid Work
BACK IN STOCK
Say hi to your neighborhood!
NEXT GIGS
Friday, 7. Jun 2013
D - Ulm - Eden

Saturday, 8. Jun 2013
D- Nürnberg - Hemdendienst

Wednesday, 26. Jun 2013
D - Stuttgart - waggon

Thursday, 27. Jun 2013
D - Freiburg - White rabbit

Friday, 28. Jun 2013
D München Galerie Kullukcu

Friday, 2. Aug 2013
D Kiesgrube humulus - lupulus festival

RECENT GIGS
Tuesday, 14. May 2013
BR - Sao Paulo

Friday, 10. May 2013
BR - Sao Paulo - Bungalow

Saturday, 4. May 2013
Peru - Lima

Thursday, 25. Apr 2013
D Berlin Lupita Tsch!Talks

Saturday, 6. Apr 2013
D Hamburg Feinkunst Krüger

Tuesday, 26. Mar 2013
F - Aix en Provence - Second Nature

Saturday, 16. Mar 2013
D Berlin Glashaus Secret-party

Friday, 15. Mar 2013
D Augsburg - Direktion

Saturday, 26. Jan 2013
I - Faenza - Clan Destino

Friday, 25. Jan 2013
I - Roma - Volturno Occupato

Saturday, 12. Jan 2013
D - Köln - Teapot Galerie

Thursday, 3. Jan 2013
D - Berlin - Flittchenbar

Wednesday, 19. Dec 2012
D Berlin Eschloraque

Saturday, 8. Dec 2012
F - Paris - arts factory

Friday, 7. Dec 2012
F - Paris - mecanique ondulatoir